Contact Center
Responding to customers, and applying their feedback strategically.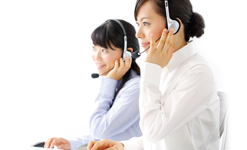 The Contact Center serves as a customer service office that handles inquiries and complaints from consumers concerning purchased products. Information it gathers is treated as "verification" information, subjected to statistical analysis and recycled as input for product development proposals (hypotheses).
Customer consulting
The Contact Center fields inquiries and complaints from general consumers on behalf of consigning companies. In the process, it compiles customer feedback and provides it to clients as information that can contribute to new service offerings and product improvements.
Telemarketing
The center also conducts various telemarketing surveys, including consumer telephone and panel surveys. Its operations include gathering, compiling and analyzing consumers' frank opinions and feeding them back as practical marketing information.
Gift campaign agency
The center is also prepared to serve as a central office to handle inquiries about gift campaigns and applications for gifts from target consumers.